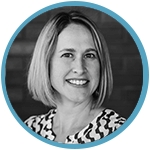 Written by Devon Zimny
Content marketing is here to stay. But the techniques you're using to get it done may not be. Over the past couple of years we have seen impressive advances in technology, from voice activated search devices (hello, Alexa) to chatbots that can handle customer queries. We've also seen audience behavior changes that include mobile search, audiovisual content consumption, and a desire for authentic, quality storytelling.
So what does that mean for your content marketing strategy in 2018?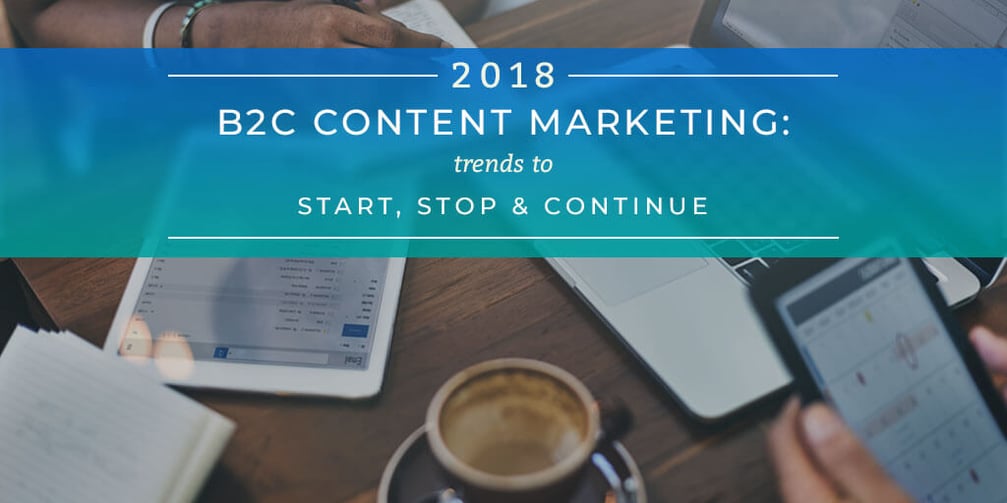 Let's take a look at the B2C content marketing trends you should start, stop, and continue as you plan your strategy this year.
Start: Move Beyond the Blog
According to Content Marketing Institute, 86% of organizations currently use content marketing, and 66% rated their 2017 strategy as more successful than the previous year. But to stay on an upward trend, you'll have to adapt your content marketing strategy. Technology advances and behavioral shifts have begun to change the way people interact with content online. Expect to see more of these techniques in 2018:
Voice Search (Internet of Things)—This year, get ready for content to shift off-screen. Some people (like my husband) have come to rely entirely on voice search via Siri, Alexa, and Google Home to find information. Strategies differ with each device, but everyone agrees that keyword research is essential and that featured snippets can provide clues about what people are searching for.
Featured Snippets—It's getting harder to rank in organic search, but one way you can boost visibility is to optimize for featured snippets. Almost 90% of text-only featured snippets yield a voice answer, and they're also prominent on desktop and mobile searches.
Interactive Tools—Quizzes, surveys, and live video are all great ways to encourage interaction with your brand. And if you're really ready to think progressively, virtual reality looks promising for building brand recognition. The goal with any interactive tool is to create a story arc that builds human connection.
Radical Vulnerability—Authenticity holds significant persuasive power, and digital marketers like Michaela Alexis have leveraged that power to boost brand presence. Use storytelling to build trust with your followers based on truth and vulnerability.
Stop: Let Go of These Outdated B2C Content Marketing Techniques
Some strategies seem to hang around forever, despite the fact that they don't get results. If you have any of these outdated techniques lurking in your content marketing toolbox, it's time to let them go:
Quantity Over Quality—Now more than ever, your customers are flooded with content every day. Forget about posting arbitrary number of times per week; instead, create content that has a specific purpose for a specific persona. Incorporate inbound strategies to reach specific segments of your audience with content that speaks to their needs.
Organic-Only Facebook—Facebook organic reach is shrinking, with less than 6% of your followers ever seeing your posts, researchers say. Increase your visibility by using Facebook ads and boosted posts to target the right audience.
Text-Only SEO—Content reaches people through many channels these days, including audio, video, and visual images. Optimize all of these media channels for search rather than focusing on text only.
Continue: Stay on Track
Of course, just because something isn't shiny and new doesn't mean it won't work. Keep your content marketing strategy on track with these tried-and-true techniques, because we don't see them changing anytime soon.
Videos—People love watching videos and that's not going to change in 2018. Update your strategy this year by adapting to your audience's interests, incorporating live video streams, and emphasizing authenticity.
Social Media—Social media remains among the top B2C content marketing distribution channels according to Content Marketing Institute. Broaden your horizons by experimenting with a venue like Pinterest or SnapChat to reach different segments of your audience.
Personalization—Personalization has been around a long time, but recent technology advances give you more options to segment and customize. Your audience is even expecting a certain level of personalization. Plan your content marketing strategy around your personas so you can deliver the right message to the right person at the right time.
No matter which content marketing techniques and channels you incorporate into your game plan this year, following inbound best practices will remain a key success driver. Build out personas and use them to create content as you target your message to the right audience using both on-site and off-site marketing.
Best of luck for a prosperous B2C content marketing strategy in 2018!
What content marketing strategies worked for you last year? What do you plan to do differently in 2018? Let us know in the comments!